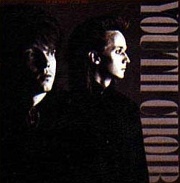 Youth Choir
is a band from Los Angeles, California, United States. They were formed by Derald Daugherty and
Steve Hindalong
in 1983 and later shortened their name to
The Choir
in 1986. They recorded two releases before their name change.
Discography
Edit
Steve Hindalong - Drums, Percussion, Vocals (1983-1985)
Derald Daugherty - Guitars, Vocals (1983-1985)
Dan Michaels - Woodwinds (1985)
Tim Chandler - Bass (1985)
Mike Sauerbrey - Bass (1983-1984)
External Links
Edit
Ad blocker interference detected!
Wikia is a free-to-use site that makes money from advertising. We have a modified experience for viewers using ad blockers

Wikia is not accessible if you've made further modifications. Remove the custom ad blocker rule(s) and the page will load as expected.