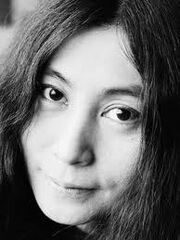 Yoko Ono is a Japanese-American avant-garde artist, known for her marriage to
John Lennon
. She was also a member of
The Plastic Ono Band
. Her son is
Sean Lennon
.
Discography
Edit
Unfinished Music No.1: Two Virgins (with John Lennon)
Unfinished Music No.2: Life With The Lions (with John Lennon)
Wedding Album (with John Lennon)
Yoko Ono/Plastic Ono Band
Fly
Some Time In New York City (with John Lennon)
Approximately Infinite Universe
Feeling The Space
A Story
Double Fantasy (with John Lennon)
Season Of Glass
It's Alright (I See Rainbows)
Milk And Honey (with John Lennon)
Starpeace
Rising
Blueprint For A Sunrise
Yes, I'm A Witch
Open Your Box
Between My Head And The Sky
Compilations, live albums and EPs
Edit
Live Peace In Toronto 1969 (with John Lennon)
Onobox
Walking On Thin Ice
Rising Mixes
Don't Stop Me! (EP)
Tribute albums
Edit
Every Man Has A Woman
Mrs. Lennon
Ad blocker interference detected!
Wikia is a free-to-use site that makes money from advertising. We have a modified experience for viewers using ad blockers

Wikia is not accessible if you've made further modifications. Remove the custom ad blocker rule(s) and the page will load as expected.