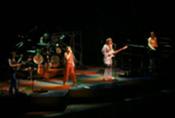 Yes
is a progressive rock band from London, England. They were formed in 1968.
Discography
Edit
Studio albums
Edit
Live albums
Edit
Compilation albums
Edit
Jon Davison (2012-Present)
Steve Howe (1970-1981; 1991; 1996-Present)
Geoff Downes (1980-1981; 2011-Present)
Chris Squire (1968-1981; 1983-Present)
Alan White (1972-1981; 1983-Present)
Jon Anderson (1968-1979; 1983-1988; 1991-2004)
Benoît David (2008-2012)
Oliver Wakeman (2008-2011)
Bill Bruford (1968-1972; 1991-1992)
Tony Kaye (1968-1971; 1983-1995)
Trevor Rabin (1983-1995)
Peter Banks (1968-1970)
Patrick Moraz (1974-1976)
Trevor Horn (1980-1981)
Igor Khoroshev (1998-2000)
Billy Sherwood (1994-1995; 1997-2000)
Ad blocker interference detected!
Wikia is a free-to-use site that makes money from advertising. We have a modified experience for viewers using ad blockers

Wikia is not accessible if you've made further modifications. Remove the custom ad blocker rule(s) and the page will load as expected.