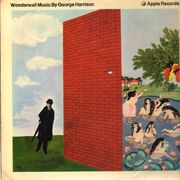 Wonderwall Music
is the first album by former
Beatle
,
George Harrison
. It was an instrumental soundtrack album for the movie "Wonderwall" released on
Apple Records
in
1968
.
Tracklisting
Edit
1. "Microbes"
2. "Red Lady Too"
3. "Tabla And Pakavaj"
4. "In The Park"
5. "Drilling A Home"
6. "Guru Vandana"
7. "Greasy Legs"
8. "Ski-Ing" [tab]
9. "Gat Kirwani"
10. "Dream Scene"
11. "Party Seacombe"
12. "Love Scene"
13. "Crying"
14. "Cowboy Music"
15. "Fantasy Sequins"
16. "Glass Box"
17. "On The Bed"
18. "Wonderwall To Be Here"
19. "Singing Om"
External Links
Edit
0 people own this album. 

If you own this album, change the number to one higher!

Ad blocker interference detected!
Wikia is a free-to-use site that makes money from advertising. We have a modified experience for viewers using ad blockers

Wikia is not accessible if you've made further modifications. Remove the custom ad blocker rule(s) and the page will load as expected.