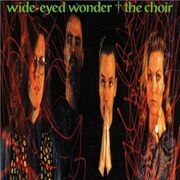 Wide-Eyed Wonder
is the third
studio album
by Christian
Alternative
band
The Choir
. It was released by
Myrrh Records
in
1989
. The ninth song on the album,
Behind That Locked Door
, is a
George Harrison
cover.
Tracklisting
Edit
"Someone To Hold On To"
"To Cover You"
"Robin Had A Dream"
"Spin You Around"
"When She Sees Me"
"Wide-Eyed Wonder"
"Happy Fool"
"Car, Etc."
"Behind That Locked Door"
"To Bid Farewell"
"Car, Cont."
External Links
Edit
0 people own this album. 

If you own this album, change the number to one higher!

Ad blocker interference detected!
Wikia is a free-to-use site that makes money from advertising. We have a modified experience for viewers using ad blockers

Wikia is not accessible if you've made further modifications. Remove the custom ad blocker rule(s) and the page will load as expected.