Whenever You Need Somebody
is
Rick Astley's debut
album released in 1987, and also his best selling. It has sold over 15 million copies worldwide and was the 7th best selling album in the UK in 1987 and the 15th best selling album in the United States in 1988.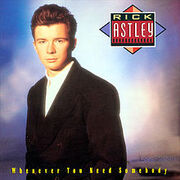 It contains the hit single "Never Gonna Give You Up."
Track Listing
Edit
"Never Gonna Give You Up"
"Whenever You Need Somebody"
"Together Forever"
"It Would Take a Strong Strong Man"
"The Love Has Gone"
"Don't Say Goodbye"
"Slipping Away"
"No More Looking for Love"
"You Move Me"
"When I Fall in Love"
0 people own this album. 

If you own this album, change the number to one higher!

Ad blocker interference detected!
Wikia is a free-to-use site that makes money from advertising. We have a modified experience for viewers using ad blockers

Wikia is not accessible if you've made further modifications. Remove the custom ad blocker rule(s) and the page will load as expected.