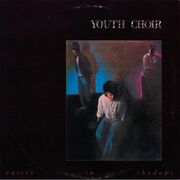 Voices In Shadows
is the first
studio album
by Christian
alternative
band
Youth Choir
. It was released in
1984
by
Broken Records
. This album pursues a more British
New Wave
style of music such as
U2
.
Credited on the album as drummer is Steve Hindalong although the whole album was recorded on a drum machine. He was in a band called the Lucky Stiffs at the time and didn't have much time for Youth Choir.
Tracklisting
Edit
"Someone's Calling" - [4:21]
"Wounds Of A Young Heart" - [2:38]
"Dreams" - [3:48]
"Another Heart" - [3:32]
"Why Are All The Children Crying?" - [4:31]
"Another World" - [3:54]
"Here In The Night" - [4:17]
"Alright Tonight" - [2:54]
"Anyone But You" - [3:34]
"A Million Years" - [3:41]
Personnel
Edit
Derald Daugherty - Guitars, Lead Vocals
Mike Sauerbrey - Bass
Steve Hindalong - Drums, Percussion
Produced and Engineered by Thom Roy
External Links
Edit
0 people own this album. 

If you own this album, change the number to one higher!

Ad blocker interference detected!
Wikia is a free-to-use site that makes money from advertising. We have a modified experience for viewers using ad blockers

Wikia is not accessible if you've made further modifications. Remove the custom ad blocker rule(s) and the page will load as expected.