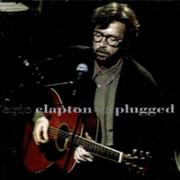 Unplugged
is a live album by
Eric Clapton
. It is a part of the MTV Unplugged series.
Tracklisting
Edit
"Signe" (Eric Clapton) – 3:13
"Before You Accuse Me" (Ellas McDaniel) – 3:36
"Hey Hey" (Big Bill Broonzy) – 3:24
"Tears in Heaven" (Clapton, Will Jennings) – 4:34
"Lonely Stranger" (Clapton) – 5:28
"Nobody Knows You When You're Down and Out" (Jimmy Cox) – 3:49
"Layla" (Clapton, Jim Gordon) – 4:46
"Running on Faith" (Jerry Lynn Williams) – 6:35
"Walkin' Blues" (Robert Johnson) – 3:37
"Alberta" (Traditional) – 3:42
"San Francisco Bay Blues" (Jesse Fuller) – 3:23
"Malted Milk" (Robert Johnson) – 3:36
"Old Love" (Clapton, Robert Cray) – 7:53
"Rollin' and Tumblin'" (Muddy Waters) – 4:10
1 people own this album. 

If you own this album, change the number to one higher!

Ad blocker interference detected!
Wikia is a free-to-use site that makes money from advertising. We have a modified experience for viewers using ad blockers

Wikia is not accessible if you've made further modifications. Remove the custom ad blocker rule(s) and the page will load as expected.