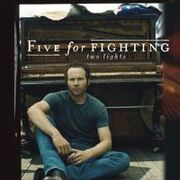 Two Lights
was an album made by
Five for Fighting
and released on August 1, 2006. It contains 10 songs, has a variety of editions.
Discography
Edit
1. Freedom Never Cries
2. World
3. California Justice
4. The Riddle
5. Two Lights
6. 65 Mustang
7. I Just Love You
8. Policeman's Xmas Party
9. Road To Heaven
10. Johnny America
Best Buy Edition (bonus tracks)
Edit
1. The Riddle (acoustic)
2. Drive You On
iTunes store (bonus tracks)
Edit
1. The Riddle (Acoustic)
2. Easy Tonight (Acoustic)
Ad blocker interference detected!
Wikia is a free-to-use site that makes money from advertising. We have a modified experience for viewers using ad blockers

Wikia is not accessible if you've made further modifications. Remove the custom ad blocker rule(s) and the page will load as expected.