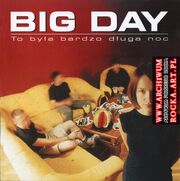 To była bardzo długa noc
is the fifth studio album by
Big Day
.
Tracklisting
Edit
Świt 1 [Instrumental]
Jasnowidz
Marzenie C-dur
28
Cudowny sposób
Kochankowie
Długa noc
Też zobaczysz to
Porcja cukru
Może kiedyś
Zawołaj mnie
Świt 2 [Instrumental]
0 people own this album. 

If you own this album, change the number to one higher!

Ad blocker interference detected!
Wikia is a free-to-use site that makes money from advertising. We have a modified experience for viewers using ad blockers

Wikia is not accessible if you've made further modifications. Remove the custom ad blocker rule(s) and the page will load as expected.