This Is My Truth Tell Me Yours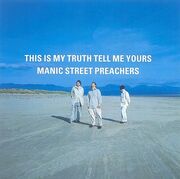 is an album by Manic Street Preachers, released in 1998.
Tracklisting
Edit
"The Everlasting" – 6:09
"If You Tolerate This Your Children Will Be Next" – 4:50
"You Stole the Sun from My Heart" – 4:20
"Ready for Drowning" – 4:31
"Tsunami" – 3:50
"My Little Empire" – 4:09
"I'm Not Working" – 5:51
"You're Tender and You're Tired" – 4:37
"Born a Girl" – 4:12
"Be Natural" – 5:12
"Black Dog on My Shoulder" – 4:48
"Nobody Loved You" – 4:44
"S.Y.M.M." (South Yorkshire Mass Murderer) – 5:57
1 people own this album. 

If you own this album, change the number to one higher!

Ad blocker interference detected!
Wikia is a free-to-use site that makes money from advertising. We have a modified experience for viewers using ad blockers

Wikia is not accessible if you've made further modifications. Remove the custom ad blocker rule(s) and the page will load as expected.