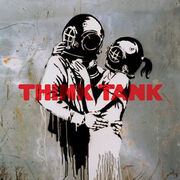 <
13
|
Think Tank is the seventh album by Blur, released on 5 May 2003.
Tracklisting
Edit
Ambulance
Out Of Time
Crazy Beat
Good Song
On The Way To The Club
Brothers And Sisters
Caravan
We've Got A File On You
Moroccan Peoples Revolutionary Bowls Club
Sweet Song
Jets
Gene By Gene
Battery Leg

Me, White Noise [hidden track]
0 people own this album. 

If you own this album, change the number to one higher!

Ad blocker interference detected!
Wikia is a free-to-use site that makes money from advertising. We have a modified experience for viewers using ad blockers

Wikia is not accessible if you've made further modifications. Remove the custom ad blocker rule(s) and the page will load as expected.