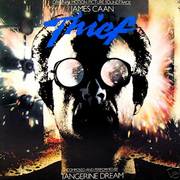 Thief
is a soundtrack album by krautrock band
Tangerine Dream
for the film "Thief". It reached No. 43 on the UK Albums Chart and ran for 3 weeks. It was released on Virgin Records in 1981.
Beach Scene
is found on Version A, and
Confrontation
is found on the B Version.
Tracklisting
Edit
1. "Beach Theme" - [3:44]
2. "Dr. Destructo" - [3:18]
3. "Diamond Diary" - [10:48]
4. "Burning Bar" - [3:11]
5. "Beach Scene" - [6:48]
6. "Scrap Yard" - [4:40]
7. "Trap Feeling" - [2:57]
8. "Igneous" - [4:45]
9. "Confrontation" - [5:37]
Personnel
Edit
Edgar Froese - Keyboards, Electronic Equipment, Guitars
Christopher Franke - Synthesizers, Electronic Equipment, Electronic Percussion
Johannes Schmoelling - Keyboards, Electronic Equipment
0 people own this album.

If you own this album, change the number to one higher!

Ad blocker interference detected!
Wikia is a free-to-use site that makes money from advertising. We have a modified experience for viewers using ad blockers

Wikia is not accessible if you've made further modifications. Remove the custom ad blocker rule(s) and the page will load as expected.