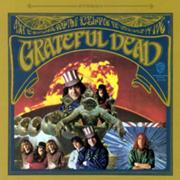 The Grateful Dead
is the first album of
Grateful Dead
. It was released in 1967 by Warner Bros. Records.
Tracklisting
Edit
The Golden Road (To Unlimited Devotion)
Beat It On Down The Line
Good Morning Little School Girl
Cold Rain And Snow
Sitting On Top Of The World
Cream Puff War
(Walk Me Out In The) Morning Dew
New, New Minglewood Blues
Viola Lee Blues
0 people own this album. 

If you own this album, change the number to one higher!

Ad blocker interference detected!
Wikia is a free-to-use site that makes money from advertising. We have a modified experience for viewers using ad blockers

Wikia is not accessible if you've made further modifications. Remove the custom ad blocker rule(s) and the page will load as expected.