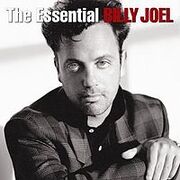 The Essential Billy Joel
was a 2-disc compilation album of
Billy Joel
songs released on October 2,
2001
(US). It has 36 songs total.
Discography
Edit
1. Piano Man
2. You're My Home
3. Captain Jack
4. The Entertainer
5. Say Goodbye To Hollywood
6. Miami 2017 (I've Seen The Lights Go Out On Broadway)
7. New York State of Mind
8. She's Always A Woman
9. Movin' Out (Anthony's Song)
10. Only The Good Die Young
11. Just The Way You Are
12. Honesty
13. My Life
14. It's Still Rock And Roll To Me
15. You May Be Right
16. Don't Ask Me Why
17. She's Got A Way
18. Allentown
1. Goodnight Saigon
2. An Innocent Man
3. Uptown Girl
4. The Longest Time
5. Tell Her About It
6. Leave A Tender Moment Alone
7. A Matter Of Trust
8. Baby Grand
9. I Go To Extremes
10. We Didn't Start The Fire
11. Leningrad
12. The Downeaster "Alexa"
13. And So It Goes
14. The River Of Dreams
15. All About Soul
16. Lullabye (Goodnight, My Angel)
17. Waltz no. 1 (Nunley's Carousel)
18. Invention In C minor
0 people own this album. 

If you own this album, change the number to one higher!

Ad blocker interference detected!
Wikia is a free-to-use site that makes money from advertising. We have a modified experience for viewers using ad blockers

Wikia is not accessible if you've made further modifications. Remove the custom ad blocker rule(s) and the page will load as expected.