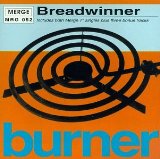 The Burner
is the first and only album by American math rock band
Breadwinner
, released on 14 March 1994.
Tracklisting
Edit
Tourette's
Ditch
Kisses Men On The Mouth On The Mountain
" "
Prescott (Homecut)
Mac's Oranges
Knighton
Exploder
Turtlehead
0 people own this album. 

If you own this album, change the number to one higher!

Ad blocker interference detected!
Wikia is a free-to-use site that makes money from advertising. We have a modified experience for viewers using ad blockers

Wikia is not accessible if you've made further modifications. Remove the custom ad blocker rule(s) and the page will load as expected.