The "Chirping" Crickets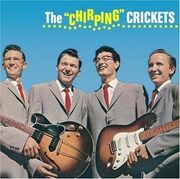 is the first and only album by
Buddy Holly
and
The Crickets
.
Tracklisting
Edit
"Oh, Boy!" – 2:07
"Not Fade Away" – 2:21
"You've Got Love" – 2:05
"Maybe Baby" – 2:01
"It's Too Late" – 2:22
"Tell Me How" – 1:58
"That'll Be the Day" – 2:14
"I'm Looking for Someone to Love" – 1:56
"An Empty Cup (And a Broken Date)" – 2:11
"Send Me Some Lovin'" – 2:33
"Last Night" – 1:53
"Rock Me My Baby" – 1:47
0 people own this album. 

If you own this album, change the number to one higher!

Ad blocker interference detected!
Wikia is a free-to-use site that makes money from advertising. We have a modified experience for viewers using ad blockers

Wikia is not accessible if you've made further modifications. Remove the custom ad blocker rule(s) and the page will load as expected.