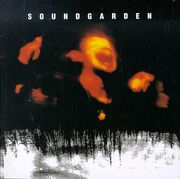 Superunknown
is the fourth studio album by
Soundgarden
. Released in 1994 on A&M Records, this album helped Soundgarden reach mainstream popularity, and contains some of their well-known songs such as "Spoonman" and "Black Hole Sun".
Track listing
Edit
Let Me Drown
My Wave
Fell on Black Days
Mailman
Superunknown
Head Down
Black Hole Sun
Spoonman
Limo Wreck
The Day I Tried to Live
Kickstand
Fresh Tendrils
4th of July
Half
Like Suicide
1 people own this album. 

If you own this album, change the number to one higher!

Ad blocker interference detected!
Wikia is a free-to-use site that makes money from advertising. We have a modified experience for viewers using ad blockers

Wikia is not accessible if you've made further modifications. Remove the custom ad blocker rule(s) and the page will load as expected.