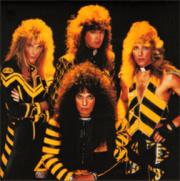 Stryper
is one of the most famous Christian bands in Christian music history. They started as a band called
Roxx Regime
in 1983 and later that year changed their name to Stryper. They were best known in the 80s for their big hair, black and yellow spandex, and throwing copies of the Bible to the audience at their concerts. They received much attention from the Secular market as well as the Christian market. They also received much flaque from many churches because of their look and sound. They were one of the first Christian bands to play the genre of Metal. Their band came to a close in 1992, but has been back together since 2003.
Discography
Edit
Studio Albums
Edit
Compilations
Edit
Live Albums
Edit
Oz Fox - Guitars, Vocals (1983-1992; 2003-Present)
Tim Gaines - Bass, Keyboards, Vocals (1983-1986; 1987-1992; 2010-Present)
Tracy Ferrie - Bass (2005-2009)
Matt Harding - Bass (1986)
External Links
Edit
Ad blocker interference detected!
Wikia is a free-to-use site that makes money from advertising. We have a modified experience for viewers using ad blockers

Wikia is not accessible if you've made further modifications. Remove the custom ad blocker rule(s) and the page will load as expected.