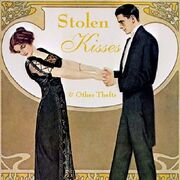 Stolen Kisses & Other Thefts
is an album by
Bill Mallonee
. It was released in 2006.
Tracklisting
Edit
Bank [5:11]
Otherwise [4:38]
Out On The Weekend (Neil Young cover) [4:28]
Rationale [4:02]
Soliloquy (I'm Sorry 1,000 Times Again) [3:57]
Resplendent [4:52]
High And Lonesome [3:56]
Here Comes Heartache [5:25]
November Ghost [4:21]
Solar System [4:11]
Till They Cry Out [4:26]
Grave Reservations [3:43]
In Time With Yours [4:46]
Nothing Like A Train [5:36]
0 people own this album. 

If you own this album, change the number to one higher!

Ad blocker interference detected!
Wikia is a free-to-use site that makes money from advertising. We have a modified experience for viewers using ad blockers

Wikia is not accessible if you've made further modifications. Remove the custom ad blocker rule(s) and the page will load as expected.