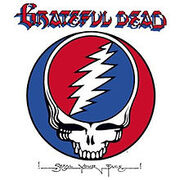 Steal Your Face
is an album by the
Grateful Dead
. It was released in 1976.
Tracklisting
Edit
The Promised Land
Cold Rain And Snow
Around And Around
Stella Blue
Mississippi Half-Step Uptown Toodledoo
Ship Of Fools
Beat It On Down The Line
Big River
Black-Throated Wind
U.S. Blues
El Paso
Sugaree
It Must Have Been The Roses
Casey Jones
0 people own this album. 

If you own this album, change the number to one higher!

Ad blocker interference detected!
Wikia is a free-to-use site that makes money from advertising. We have a modified experience for viewers using ad blockers

Wikia is not accessible if you've made further modifications. Remove the custom ad blocker rule(s) and the page will load as expected.