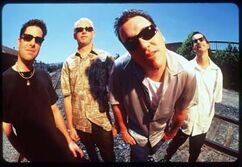 Smash Mouth is an American retro pop rock band heavily influenced by the 60s that maintains a "keen pop sensibility" in their California party-band music. The band was formed in 1994 in San Jose, California with Steve Harwell (vocals), Kevin Coleman (drums), Greg Camp (guitar), and Paul De Lisle (Bass). Harwell and De Lisle remain on the band today along with Michael Klooster (keyboard), Randy Cooke (drums), and Mike Krompass (guitars). The band achieved mainstream success with hit songs like "All Star" on Astro Lounge and their cover of the Monkees "I'm a Believer" on their self titled album. After not releasing an album for six years, Smash Mouth released "Magic" in September 2012.
Discography
Edit
Ad blocker interference detected!
Wikia is a free-to-use site that makes money from advertising. We have a modified experience for viewers using ad blockers

Wikia is not accessible if you've made further modifications. Remove the custom ad blocker rule(s) and the page will load as expected.