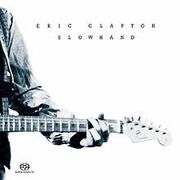 Slowhand
is the sixth studio album by
Eric Clapton
, released in
1977
.
Tracklisting
Edit
Side one
"Cocaine" (J.J. Cale) – 3:41
"Wonderful Tonight" (Eric Clapton) – 3:44
"Lay Down Sally" (Clapton, Marcy Levy, George Terry) – 3:56
"Next Time You See Her" (Clapton) – 4:01
"We're All the Way" (Don Williams) – 2:32
Side two
"The Core" (Clapton/Levy) – 8:45
"May You Never" (John Martyn) – 3:01
"Mean Old Frisco" – (Eric Clapton) 4:42
"Peaches and Diesel" (Clapton, Albhy Galuten) – 4:46
1 people own this album. 

If you own this album, change the number to one higher!

Ad blocker interference detected!
Wikia is a free-to-use site that makes money from advertising. We have a modified experience for viewers using ad blockers

Wikia is not accessible if you've made further modifications. Remove the custom ad blocker rule(s) and the page will load as expected.