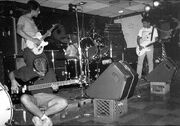 Slint
was an influential band that formed in Louisville, Kentucky, USA in 1986. A few of the members had been playing with each other since the early 80s, and also in the post-hardcore band
Squirrel Bait
, from which
Bastro
also emerged. Their first album,
Tweez
, was firmly rooted in post-hardcore, while their second, the influential
Spiderland
, while still rooted in post-hardcore, went on to influence post-rock and math rock. They broke up just after the release of Spiderland, around 1991 or 1992, and there was no tour in support of it. A posthumous
EP
was released in 1994, but recorded around 1989.
The band reunited in 2005 to curate that year's All Tomorrow's Parties festival and also played a number of shows in the USA and Europe. They reunited once again in 2007 to play at Barcelona's Primavera Sound Festival, ATP's "Don't Look Back Series", Chicago's Pitchfork Music Festival, the Showbox in Seattle and the Henry Fonda Theater in Hollywood. The band will re-unite again in December 2013 to headline All Tomorrow's Parties in London. No new recorded material has emerged, however one new song has been played live (King's Approach).
Discography
Edit
Ad blocker interference detected!
Wikia is a free-to-use site that makes money from advertising. We have a modified experience for viewers using ad blockers

Wikia is not accessible if you've made further modifications. Remove the custom ad blocker rule(s) and the page will load as expected.