Skaldowie
are a Polish band from Kraków, formed in 1965.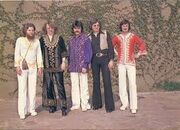 Discography
Edit
Skaldowie
Od wschodu do zachodu słońca
Ty
Wszystkim zakochanym
Stworzenia świata część druga
Rezerwat miłości
Droga ludzi
Po śniegu, po kolędzie
Podróż magiczna
Moje Betlejem
Harmonia świata
Skaldowie dzieciom
Oddychać i kochać
Z biegiem lat
Ad blocker interference detected!
Wikia is a free-to-use site that makes money from advertising. We have a modified experience for viewers using ad blockers

Wikia is not accessible if you've made further modifications. Remove the custom ad blocker rule(s) and the page will load as expected.