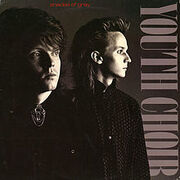 Shades Of Gray
is an by Christian
Alternative
band
Youth Choir
. It was released by
Shadow Records
in
1985
. The whole EP was later used as 5 bonus tracks on the CD release of
The Choir
's
Chase The Kangaroo
.
Tracklisting
Edit
1. "Fade Into You" - [3:58]
2. "15 Doors" - [3:05]
3. "More Than Words" - [2:36]
4. "Tears Don't Fall" - [4:06]
5. "All Night Long" - [5:01]
Personnel
Edit
Derald Daugherty - Lead Vocals, Guitars, Piano
Steve Hindalong - Drums, Percussion
Tim Chandler - Bass
Dan Michaels - Saxophone, Lyricon
Background vocals by Steve Hindalong and Tim Chandler
Produced by Derald Daugherty and Steve Hindalong
External Links
Edit
0 people own this album. 

If you own this album, change the number to one higher!

Ad blocker interference detected!
Wikia is a free-to-use site that makes money from advertising. We have a modified experience for viewers using ad blockers

Wikia is not accessible if you've made further modifications. Remove the custom ad blocker rule(s) and the page will load as expected.