Screamadelica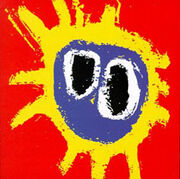 is the third album by
Primal Scream
, released in 1991.
Tracklisting
Edit
Movin' On Up
Slip Inside This House
Don't Fight It, Feel It
Higher Than The Sun
Inner Flight
Come Together
Loaded
Damaged
I'm Comin' Down
Higher Than The Sun (A Dub Symphony In Two Parts)
Shine Like Stars
1 people own this album. 

If you own this album, change the number to one higher!

Ad blocker interference detected!
Wikia is a free-to-use site that makes money from advertising. We have a modified experience for viewers using ad blockers

Wikia is not accessible if you've made further modifications. Remove the custom ad blocker rule(s) and the page will load as expected.