Jeffery Johnson Jr.
, more commonly known as
Roscoe Dash
, is an American rapper who was born on the second of April
1990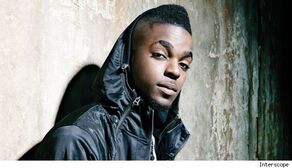 .
Personal Life
Edit
Johnson is the oldest of his siblings. He has a brother, two half-sisters, and two stepbrothers..
Johnson also has one daughter. Roscoe Dash is know for his many different hair-styles.
Roscoe Dash was originally known as ATL. His song All the Way Turnt Up! was originally recorded with Travis Porter, and released on their mixtape I'm a Differenter. Dash was only credited as a featured artist. According to Travis Porter, this was just a mistake.Later, he recorded the song again, featuring Soulja Boy Tell 'Em. The song turned into a club hit, and Roscoe Dash signed with Interscope.
He then recorded the album Ready Set Go, but in his opinion, the album was released unfinished. He therefore refers to the following EP J.U.I.C.E. as his first album.
In 2012 Dash was featured on the cover of XXL as part of their annual "Top 10 Freshmen list" along with fellow rappers French Montana, Machine Gun Kelly, Hopsin, Iggy Azalea and Danny Brown.
Discography
Edit
Studio albums
Edit
Ad blocker interference detected!
Wikia is a free-to-use site that makes money from advertising. We have a modified experience for viewers using ad blockers

Wikia is not accessible if you've made further modifications. Remove the custom ad blocker rule(s) and the page will load as expected.