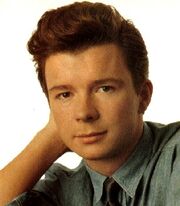 &nbsp
Rick Astley is a famous musician best known for his hit single "Never Gonna Give You Up" released in 1987. He retired from the music industry in 1993, with over 40 million records sold across the globe. He has recently made a comeback however, and has become an internet celebrity with his music video for "Never Gonna Give You Up" which has become the basis of a meme known as "rickrolling"
Discography
Edit
Ad blocker interference detected!
Wikia is a free-to-use site that makes money from advertising. We have a modified experience for viewers using ad blockers

Wikia is not accessible if you've made further modifications. Remove the custom ad blocker rule(s) and the page will load as expected.