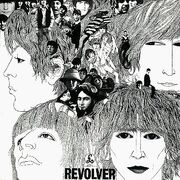 Revolver
is the seventh studio album by
The Beatles
. It was released on 5 August
1966
. It marks the beginning of a psychedelic era for The Beatles. It was rated the 3rd greatest album of all time by Rolling Stone magazine.
Tracklisting
Edit
All songs written and composed by John Lennon and Paul McCartney, except where noted.
Taxman [2:39] (George Harrison)
Eleanor Rigby [2:08]
I'm Only Sleeping [3:02]
Love You To [3:01] (George Harrison)
Here, There And Everywhere [2:26]
Yellow Submarine [2:40]
She Said She Said [2:37]
Good Day Sunshine [2:10]
And Your Bird Can Sing [2:02]
For No One [2:01]
Doctor Robert [2:15]
I Want To Tell You [2:30] (George Harrison)
Got To Get You Into My Life [2:31]
Tomorrow Never Knows [2:57]
External Links
Edit
0 people own this album. 

If you own this album, change the number to one higher!

Ad blocker interference detected!
Wikia is a free-to-use site that makes money from advertising. We have a modified experience for viewers using ad blockers

Wikia is not accessible if you've made further modifications. Remove the custom ad blocker rule(s) and the page will load as expected.