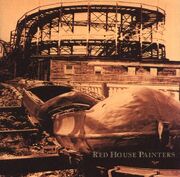 Red House Painters
is the second album by Red House Painters, often called
Rollercoaster
to distinguish it from their second epynomous album (
Bridge
). It was released in 1993.
Tracklisting
Edit
Grace Cathedral Park
Down Through
Katy Song
Mistress
Things Mean A Lot
Funhouse
Take Me Out
Rollercoaster
New Jersey
Dragonfly
Mistress (Piano version)
Mother
Strawberry Hill
Brown Eyes
0 people own this album. 

If you own this album, change the number to one higher!

Ad blocker interference detected!
Wikia is a free-to-use site that makes money from advertising. We have a modified experience for viewers using ad blockers

Wikia is not accessible if you've made further modifications. Remove the custom ad blocker rule(s) and the page will load as expected.