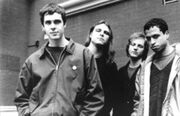 Quicksand
is an alternative metal/post-hardcore band formed in New York in 1990. After breaking up in 1995, they reunited in 1997 before breaking up once again in the following year. As of 2013, they are back together again. To date, Quicksand has released two albums and one EP.
Discography
Edit
Studio albums
Edit
Ad blocker interference detected!
Wikia is a free-to-use site that makes money from advertising. We have a modified experience for viewers using ad blockers

Wikia is not accessible if you've made further modifications. Remove the custom ad blocker rule(s) and the page will load as expected.