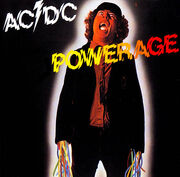 Powerage
is an album by Australian hard rock band
AC/DC
. It was released in 1978.
Tracklisting
Edit
Rock 'N' Roll Damnation
Down Payment Blues
Gimme A Bullet
Riff Raff
Sin City
What's Next To The Moon
Gone Shootin'
Up To My Neck In You
Kicked In The Teeth
Cold Hearted Man
0 people own this album. 

If you own this album, change the number to one higher!

Ad blocker interference detected!
Wikia is a free-to-use site that makes money from advertising. We have a modified experience for viewers using ad blockers

Wikia is not accessible if you've made further modifications. Remove the custom ad blocker rule(s) and the page will load as expected.