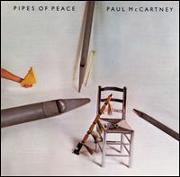 Pipes Of Peace
is an album by
Paul McCartney
. It was released in 1983.
Tracklisting
Edit
All songs written by Paul McCartney except where noted.
Pipes Of Peace
Say Say Say (Paul McCartney, Michael Jackson)
The Other Me
Keep Under Cover
So Bad
The Man (Paul McCartney, Michael Jackson)
Sweetest Little Show
Average Person
Hey Hey (Paul McCartney, Stanley Clarke)
Tug Of Peace
Through Our Love
External Links
Edit
0 people own this album. 

If you own this album, change the number to one higher!

Ad blocker interference detected!
Wikia is a free-to-use site that makes money from advertising. We have a modified experience for viewers using ad blockers

Wikia is not accessible if you've made further modifications. Remove the custom ad blocker rule(s) and the page will load as expected.