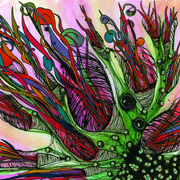 Pink Magick
is the second album by
Giraffes? Giraffes!
, released on 21 September 2011.
Tracklisting
Edit
Es And Em And Em And Ems
Scorpion Bowls At The Hong Kong
Totally Boneless!!!
Werewolf Grandma With Knives (Part One: The Changeling)
Werewolf Grandma With Knives (Part Two: Don't Die)
Koscinski's Requiem For A Golden Chariot
Curse Of The Tooth Nightmare
Transparent Man/Invisible Woman (80,000,000 Years Alone)
DRGNFKR
0 people own this album. 

If you own this album, change the number to one higher!

Ad blocker interference detected!
Wikia is a free-to-use site that makes money from advertising. We have a modified experience for viewers using ad blockers

Wikia is not accessible if you've made further modifications. Remove the custom ad blocker rule(s) and the page will load as expected.