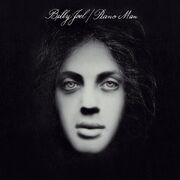 Piano Man
is a
Billy Joel
album released by
Columbia Records
in
1973
. It was later released in
1986
by
Family Productions
Track listing
Edit
All songs by Billy Joel.
Side one -
Edit
"Travelin' Prayer" – 4:16
"Piano Man" – 5:37
"Ain't No Crime" – 3:20
"You're My Home" – 3:14
"The Ballad of Billy the Kid" – 5:35
Side two -
Edit
"Worse Comes to Worst" – 3:28
"Stop in Nevada" – 3:40
"If I Only Had the Words (To Tell You)" – 3:35
"Somewhere Along the Line" – 3:17
"Captain Jack" – 7:15
1 people own this album. 

If you own this album, change the number to one higher!

Ad blocker interference detected!
Wikia is a free-to-use site that makes money from advertising. We have a modified experience for viewers using ad blockers

Wikia is not accessible if you've made further modifications. Remove the custom ad blocker rule(s) and the page will load as expected.