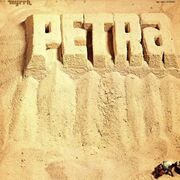 Petra
is the first album by
Petra
. Bob Hartman and Greg Hough sang on this album. This was released through
Myrrh Records
in
1974
. It was later re-released by
Word Records
.
Tracklisting
Edit
All songs written by Bob Hartman except where noted.
1. "Walkin' In The Light"
2. "Mountains And Valleys" [tab]
3. "Lucas McGraw" [tab]
4. "Wake Up" (Greg Hough and Bob Hartman)
5. "Back Sliding Blues"
6. "Get Back To The Bible"
7. "Gonna Fly Away"
8. "I'm Not Ashamed" (Greg Hough)
9. "Storm Comin'"
10. "Parting Thought"
Personnel
Edit
Bob Hartman - Lead Vocals, Guitars, Banjo
Greg Hough - Lead Vocals, Guitars, Mandolin
John DeGroff - Bass
Bill Glover - Drums
Produced by Billy Ray Hearn
External links
Edit
1 people own this album. 

If you own this album, change the number to one higher!

Ad blocker interference detected!
Wikia is a free-to-use site that makes money from advertising. We have a modified experience for viewers using ad blockers

Wikia is not accessible if you've made further modifications. Remove the custom ad blocker rule(s) and the page will load as expected.