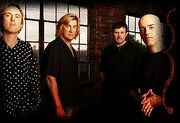 Petra
is one of the first Christian rock bands during the "Jesus Movement" of the 1960s and 70s. The band was started in 1972 by guitarist, Bob Hartman. Petra did not work well until around the early 1980s when their fame as a Christian rock band went tremendously upwards. Soon, Bob Hartman had to leave the band and their records during that time did not sell well. Bob Hartman later rejoined in 2001, as sessions for the album
Revival
began. They broke-up in 2005, but later reunited in 2010 and are working on a new project.
Discography
Edit
Studio Albums
Edit
Live Albums
Edit
Compilation Albums
Edit
Foreign Albums
Edit
Double Album Albums
Edit
Lead Vocalists
Guitarists
Bob Hartman (1972-1995; 2001-2005; 2010-Present)
David J. Lichens (1995-1997)
Kevin Brandow (1997-2000)
Bassists
Mark Kelly (1981-1987; 2010-Present)
Lonnie Chapin (1997-2000)
Keyboardists
Drummers
Louie Weaver (1982-2002; 2010-Present)
External Links
Edit
Ad blocker interference detected!
Wikia is a free-to-use site that makes money from advertising. We have a modified experience for viewers using ad blockers

Wikia is not accessible if you've made further modifications. Remove the custom ad blocker rule(s) and the page will load as expected.