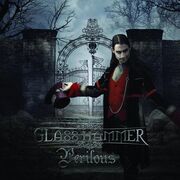 Perilous
is a concept album by progressive rock band
Glass Hammer
. It was released on October 23, 2012 by Arion Records.
Tracklisting
Edit
The Sunset Gate [7:37]
Beyond They Dwell [4:00]
The Restless Ones [3:36]
They Cast Their Spell [3:21]
We Slept, We Dreamed [7:41]
The Years Were Sped [2:57]
Our Foe Revealed [6:27]
Toward Home We Fled [6:47]
As The Sun Dipped Low [1:32]
The Wolf Gave Chase [1:59]
We Fell At Last [1:56]
In That Lonely Place [6:10]
Where Sorrows Died And Came No More [6:34]
Personnel
Edit
Fred Schendel - Keyboards, Guitars, and Backing Vocals
Steve Babb - Bass Guitar, Keyboards, and Backing Vocals
Kamran Alan Shikoh - Electric, Classical, and Acoustic Guitars
Jon Davison - Lead Vocals
Add. Musicians
The Adonia String Trio - Rebecca James (violin), Susan Hawkins-Whitacre (viola), and Rachel Backmann (cello)
Amber Fults - Lead Vocals (In That Lonely Place)
The McCallie School Guitar Choir - Bharath Venkatesh, Aaron Long, Ralston Hartness, Matthew Norris, Drew Shikoh, and Charles Evans
The Chattanooga Girls Choir members: Glory Larm, Laura Ayres, Brooke Pugsley, Kelsey Hodges; with Katherine Stegall, Molly Stegall, and Savannah Fanter
Latin Choir: Stephanie Rumpza, Sarah Snyder, Kelly Stultz, Dr. Thomas Hammett, and Robert Waller
Carey Shinbaum - Recorders, Oboe
Tim Wardle - Backing Vocals
Produced by Steve Babb and Fred Schendel
Mastering by Bob Katz
Latin Choral Score - Fred Schendel and Mike Rumpza; lyrics and translation by Stephanie Rumpza with Steve Babb
Art Direction - Rodrigo T. Adolfo
Layout - Sound Resources
Gatekeeper photography by Spitestock
Administration - Julie Babb
Glass Hammer forum admin: Brian Nielsen
1 people own this album. 

If you own this album, change the number to one higher!

Ad blocker interference detected!
Wikia is a free-to-use site that makes money from advertising. We have a modified experience for viewers using ad blockers

Wikia is not accessible if you've made further modifications. Remove the custom ad blocker rule(s) and the page will load as expected.