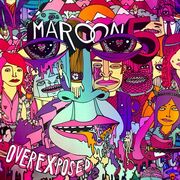 Overexposed
is the fourth studio album from the pop/rock band,
Maroon 5
. The focus of the album is the first time the band has gone for a "poppier" feel compared to more of their regular focus on rock. The album was released in June 2012.
Tracklisting
Edit
One More Night
Payphone (Featuring Wiz Khalifa)
Daylight
Lucky Strike
The Man Who Never Lied
Love Somebody
Lady Killer
Fortune Teller
Sad
Tickets
Doin' Dirt
Beautiful Goodbye
Bonus Tracks
Edit
Wipe Your Eyes
Wasted Tears
Kiss
2 people own this album. 

If you own this album, change the number to one higher!

Ad blocker interference detected!
Wikia is a free-to-use site that makes money from advertising. We have a modified experience for viewers using ad blockers

Wikia is not accessible if you've made further modifications. Remove the custom ad blocker rule(s) and the page will load as expected.