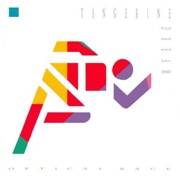 Optical Race
is a studio album by electronic band
Tangerine Dream
. It was released in 1988 by Private Music.
Tracklisting
Edit
"Marakesh"
"Atlas Eyes"
"Mothers Of Rain"
"Twin Soul Tribe"
"Optical Race"
"Cat Scan"
"Sun Gate"
"Turning Off The Wheel"
"The Midnight Trail"
"Ghazal (Love Song)"
Musicians
Edit
Edgar Froese - synthesizer, guitar
Paul Haslinger - synthesizer, grand piano, guitar
Edgar Froese, Paul Haslinger and Ralf Wadephul - composers
Cover art by Monica Froese
Norman Moore - art direction and design
Christian Gstettner - studio technician
0 people own this album. 

If you own this album, change the number to one higher!

Ad blocker interference detected!
Wikia is a free-to-use site that makes money from advertising. We have a modified experience for viewers using ad blockers

Wikia is not accessible if you've made further modifications. Remove the custom ad blocker rule(s) and the page will load as expected.