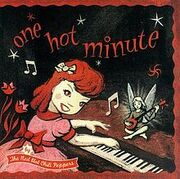 One Hot Minute
is an album by Red Hot Chili Peppers, released on 12 September 1995.
Tracklisting
Edit
Warped
Aeroplane
Deep Kick
My Friends
Coffee Shop
Pea
One Big Mob
Walkabout
Tearjerker
One Hot Minute
Fall Into Grace
Shallow Be Thy Game
Transcending
1 people own this album. 

If you own this album, change the number to one higher!

Ad blocker interference detected!
Wikia is a free-to-use site that makes money from advertising. We have a modified experience for viewers using ad blockers

Wikia is not accessible if you've made further modifications. Remove the custom ad blocker rule(s) and the page will load as expected.