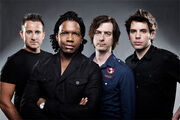 Newsboys are a famous Christian Rock/Pop band that was formed in Australia in 1985. The band has had three main singers throughout their tenure, the current one being Michael Tait. The band was originally formed by Peter Furler and a friend, with John James being the lead singer. When James left, Furler moved from drums to lead vocals. Of their 16 albums, 6 are certified gold. The bands current line up is Michael Tait (lead vocals), Jeff Frankenstein (keyboard), Jody Davis, (guitar), and Duncan Phillips (drummer).
Discography
Edit
Ad blocker interference detected!
Wikia is a free-to-use site that makes money from advertising. We have a modified experience for viewers using ad blockers

Wikia is not accessible if you've made further modifications. Remove the custom ad blocker rule(s) and the page will load as expected.