My World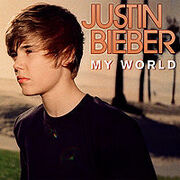 is the first album recorded by
Justin Bieber
. It is considered an EP and the first part of his two-part debut. It was released in 2009.
Tracklisting
Edit
1. One Time
2. Favorite Girl
3. Down To Earth
4. Bigger
5. One Less Lonely Girl
6. First Dance (feat. Usher)
7. Love Me
Bonus Tracks
Edit
8. Common Denominator
9. One Less Lonely Girl (French adaptation)
Ad blocker interference detected!
Wikia is a free-to-use site that makes money from advertising. We have a modified experience for viewers using ad blockers

Wikia is not accessible if you've made further modifications. Remove the custom ad blocker rule(s) and the page will load as expected.