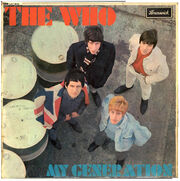 My Generation
is the debut album by British rock band
The Who
. It was released December 3 1965.
Track Listing
Edit
Out in the Street
I Don't Mind
The Good's Gone
La-La-La-Lies
Much Too Much
My Generation
The Kids Are Alright
Please, Please, Please
It's Not True
I'm a Man
A Legal Matter
The Ox
Personnel
Edit
Roger Daltrey - lead vocals, harmonica
John Entwistle - bass guitar, backing vocals
Keith Moon - drums, percussion
Pete Townshend - six and twelve string acoustic and electric guitars, backing vocals, lead vocals on "A Legal Matter"
0 people own this album. 

If you own this album, change the number to one higher!

Ad blocker interference detected!
Wikia is a free-to-use site that makes money from advertising. We have a modified experience for viewers using ad blockers

Wikia is not accessible if you've made further modifications. Remove the custom ad blocker rule(s) and the page will load as expected.