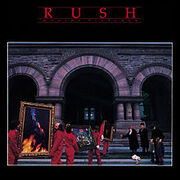 Moving Pictures
is an album by Canadian progressive rock band
Rush
. It was released in 1981.
Tracklisting
Edit
Tom Sawyer
Red Barchetta
YYZ
Limelight
The Camera Eye
Witch Hunt
Vital Signs
Personnel
Edit
Geddy Lee - Bass, Synthesizers, Lead Vocals
Alex Lifeson - Guitars, Synthesizers
Neil Peart - Drums, Percussion
Add. Musicians
2 people own this album. 

If you own this album, change the number to one higher!

Ad blocker interference detected!
Wikia is a free-to-use site that makes money from advertising. We have a modified experience for viewers using ad blockers

Wikia is not accessible if you've made further modifications. Remove the custom ad blocker rule(s) and the page will load as expected.