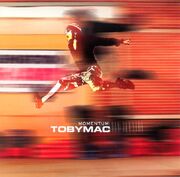 Momentum
is the first solo album by
TobyMac
. It was released on November 6, 2001 by ForeFront Records.
Tracklisting
Edit
Get This Party Started - [2:22]
What's Goin' Down - [3:42]
Irene - [4:13]
Toby's Mac - [0:46]
J Train - [3:28]
Do You Know - [3:55]
Tru-Dog - [1:06]
Momentum - [3:23]
Yours - [3:52]
Quiet Storm - [0:34]
Wonderin' Why - [3:42]
Somebody's Watching - [3:16]
Triple Skinny - [0:33]
Love Is In The House - [5:19]
Extreme Days - [3:40]
Don't Bring Me Down - [2:03]
In The Air - [4:01]
Afterword - [1:02]
Personnel
Edit
TobyMac - Lead Vocals
Brian Haley - Drums
Pete Stewart - Guitars, Bass, Electric Piano
Dave Wyatt - Keyboards
D.J. Form - Turntables
John Painter - Bass, Horns, Strings
Tony Lucido - Bass
Michael Ripol - Guitars
Scott Savage - Percussion
Jeff Savage - Organ, Keyboards, Piano, Synthesizers, Turntables
Otto Price - Bass
Mooki - Drum Programming, Keyboards
Rick May - Drums
Barry Graul - Guitars
D.J. Maj - Turntables, Scratches
Micah Wilshire - Guitars
Jon Knox - Drums
Glenn Galaxy - Guitars
Rafter - Guitars
Eric Lautenbach - Keyboards
Todd Collins - Keyboards
Background vocals by Chad Chapin, Michael Tait, Mooki, Nirva Dorsaint, Pete Stewart, Randy Crawford, TobyMac, Adrienne Liesching, Jeff Savage, Joanna Valencia, Kirk Franklin, Marcia Ware, Jason Eskridge, and Todd Collins
Produced by Pete Stewart, TobyMac, Jeff Savage, Randy Crawford, Mooki
Art Direction by Scott McDaniel
Creative Coordination by Susannah Parish
Production Coordination by Shawn Andrews
Digital Editing by Ronnie Thomas
Executive Producers - David Bach, Greg Ham
Mastered by Ted Jensen
Photography by Christian Lantry
Engineered by Pete Stewart, Todd Robbins, Dan Shike, Todd Gunnerson, Trevor Johnson
Mixed by Joe Baldridge, Joe Costa, Serban, J.R. McNeely, MAT5T, Marcello Pennell, Tony Palacios, Serbin Ghenea, J.C. Monterosa, Reid Shippen, Dan Shike
Programmed by Pete Stewart, Mooki, Dan Mukala, Jeff Savage, Glenn Galaxy, Rafter
Recorded by Pete Stewart, Marcello Pennell, Joe Baldridge
0 people own this album. 

If you own this album, change the number to one higher!

Ad blocker interference detected!
Wikia is a free-to-use site that makes money from advertising. We have a modified experience for viewers using ad blockers

Wikia is not accessible if you've made further modifications. Remove the custom ad blocker rule(s) and the page will load as expected.