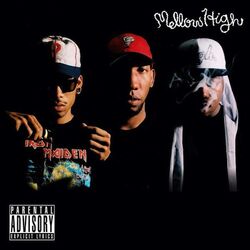 MellowHigh is the debut studio album by the Odd Future sub-group of the same name. The members are Hodgy Beats and Left Brain of MellowHype and fellow OF member Domo Genesis. The album was released on October 31, 2013 (a tradition carried over from MellowHype) and contains 13 songs. All of the songs (with the except of "Cigarillo" which was done by Hodgy Beats) were produced by Left Brain.
Tracklisting
Edit
Goon'n - 3:28
Air - 2:56
Yu - 2:27
Extinguisher - 4:02
Nobody - 3:20
Self Titled - 2:19
Troublesome - 3:24
Get'n Drunk - 2:59
Roofless - 3:26
Cold World (feat. Remy Banks and Earl Sweatshirt) - 4:47
Cigarillo - 4:27
Remix (feat. Tyler, the Creator) - 2:51
Ad blocker interference detected!
Wikia is a free-to-use site that makes money from advertising. We have a modified experience for viewers using ad blockers

Wikia is not accessible if you've made further modifications. Remove the custom ad blocker rule(s) and the page will load as expected.