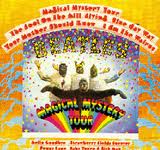 Magical Mystery Tour
is an album by
The Beatles
. It was released on December 8,
1967
in Britain for
EMI Music
and on November 27, 1967 for
Capitol Records
in the United States. There was a movie of the same name which was received quite poorly but the soundtrack was appraised.
Tracklisting
Edit
All songs were written and composed by John Lennon and Paul McCartney except where noted.
Magical Mystery Tour - [2:48]
The Fool On The Hill - [3:00]
Flying - [2:16] (John Lennon, Paul McCartney, George Harrison, and Richard Starkey)
Blue Jay Way - [3:50] (George Harrison)
Your Mother Should Know - [2:33]
I Am The Walrus - [4:35]
Hello, Goodbye - [3:24]
Strawberry Fields Forever - [4:05]
Penny Lane - [3:00]
Baby, You're A Rich Man - [3:07]
All You Need Is Love - [3:57]
0 people own this album. 

If you own this album, change the number to one higher!

Ad blocker interference detected!
Wikia is a free-to-use site that makes money from advertising. We have a modified experience for viewers using ad blockers

Wikia is not accessible if you've made further modifications. Remove the custom ad blocker rule(s) and the page will load as expected.