MTV Unplugged in New York
is a live album by
Nirvana
, and it is a p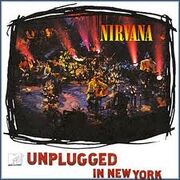 art of the
MTV Unplugged
series.
Tracklisting
Edit
About A Girl
Come As You Are
Jesus Doesn't Want Me For A Sunbeam
The Man Who Sold The World
Pennyroyal Tea
Dumb
Polly
Something In The Way
Plateau
Oh, Me
Lake Of Fire
All Apologies
Where Did You Sleep Last Night
1 people own this album. 

If you own this album, change the number to one higher!

Ad blocker interference detected!
Wikia is a free-to-use site that makes money from advertising. We have a modified experience for viewers using ad blockers

Wikia is not accessible if you've made further modifications. Remove the custom ad blocker rule(s) and the page will load as expected.